Introduction
Review on the Petroleum Market in China: History, Challenges and Prospects
(This article has been written by Si Yuan Chen and Qi Zhang)
Since the 1990s, the growth of Chinese oil consumption has accelerated dramatically due to the rapid growth of the domestic economy. A stable supply of petroleum resources is currently essential to improve China's socio-economic development, as petroleum products are almost used in every sector. By the end of 2018, China's oil consumption was up to 877.0 million tonnes of standard coal and growing at a rate of 4.0% p.a., accounting for 18.9% of the total primary energy consumption, second only to coal. Moreover, petroleum products consumption reached 356.9 million tonnes in 2017. The Chinese petroleum industry is predicted to grow steadily in the coming decades, continuing to account for a stable share of around 20% of the total primary energy mix.
The administration of the petroleum industry has undergone several changes since China's reform and opening-up. The National Energy Commission was established in 1980 to exercise comprehensive management over the petroleum, coal and power industries. Two years later, such integration was abolished, and the Ministry of Petroleum Industry was established. In 1988, the State Council carried out an institutional restructure and established the Ministry of Energy as the competent authority for the petroleum industry. In 1998, the Bureau of Petroleum and Chemical Industry was formed under the State Economic and Trade Commission to replace the Ministry of Energy, while the Bureau was removed in 2001. In 2003, the Energy Bureau was founded, the predecessor of the NEA. In 2008, the National Development and Reform Commission (NDRC) set up the NEA. In 2010, the State Council established the National Energy Commission in charge of strategic decisions and the overall coordination of the energy sector.
The changes in the administration of the petroleum industry show an alternation of stand-along and integrated management over the petroleum industry. The administration of Chinese petroleum enterprises has also experienced big changes in the past decade. Employee numbers of CNPC have decreased to 460.7 thousand by 2019, with an annual average rate of − 2.1%. Contrary to CNPC, SINOPEC had a turning point in 2016, with a significant increase of 100.6 thousand in employee numbers. Note that 97% of new employees were engaged in marketing and distribution, as a result of SINOPEC's market expansion in the downstream.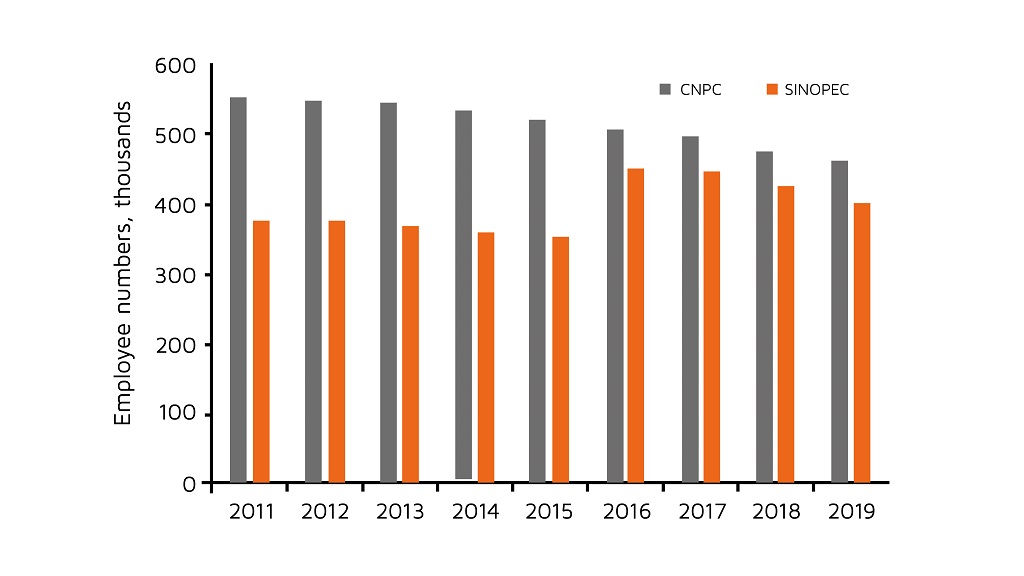 To enhance the administrative monopoly status of CNPC and SINOPEC, supportive policies were introduced. In 1999, the State Council enacted the Suggestions on Clearing and Rectifying Small Refinery Plants and Regulating the Circulation Order of Crude Oil and Petroleum Products, which required CNPC and SINOPEC to purchase non-state-owned refineries with the annual capacity of more than 1 million tonnes. Two years later, the State Council approved CNPC and SINOPEC had the exclusive right to sell petroleum products. In 2003, the Ministry of Railways issued the Notice on Strengthening the Management of Oil transportation; clearly stipulating that the railway can only transport petroleum products of CNPC and SINOPEC. Subsequently, NDRC ruled that only CNPC and SINOPEC had the right to supply ethanol gasoline for vehicles.
With the deepening of market-oriented reform of China's petroleum industry, the competition in the downstream is becoming increasingly fierce. In 2006, the Ministry of Commerce promulgated the Measures for Management of Petroleum Products Market to open the wholesale and retail rights of petroleum products to foreign enterprises, which came into effect from January 1, 2007. Since then, the market share of foreign enterprises has been increasing. However, such an increase has not broken the dominance of those three state-owned enterprises. To further promote the marketization of the petroleum industry, the State Council published Several Opinions on Deepening the Reform of the Oil and Gas System in May 2017, which declared the intention to fully open up the petroleum industry. Non-state-owned gasoline stations accounted for 45.4% by the end of 2018, and foreign enterprise will play a greater role in the retail market of petroleum products.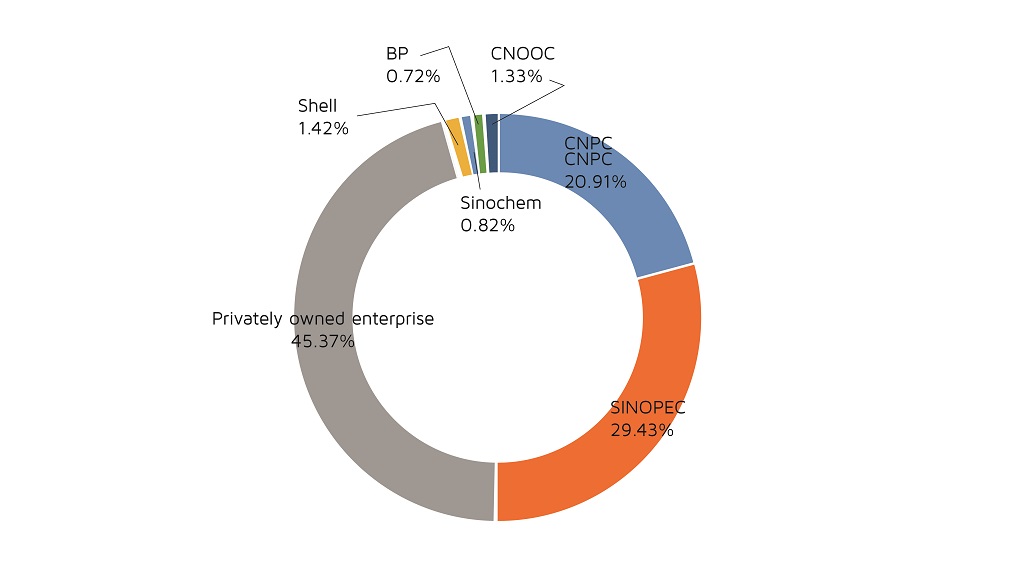 The three state-owned enterprises play a dominant role in China's petroleum industry. CNPC had a domestic crude oil production of 100.1 million tonnes in 2019, accounting for 52.4% of total crude oil output. The company processed 166.2 million tonnes of crude oil and produced petroleum products of 117.8 million tonnes. SINOPEC produced 35.1 million tonnes of crude oil within the territory of China in 2019, refined 248.2 million tonnes of crude and yielded petroleum products of 160.0 million tonnes. CNOOC's crude oil production was 36.3 million tonnes, with overseas oil production of 18.4 million tonnes. Moreover, the total number of gasoline stations of CNPC and SINOPEC reached 52,500 in 2018, with a market share of nearly 50%.
CNPC
Short History and Situation
(The following article was obtained from CNPC website and affiliated companies with CNPC.)
CNPC was formed on 17 September 1988. It was established mainly to conglomerate all petroleum activities in China as a state-owned company.
It is the 3rd largest oil company in the world, and has assets and interests in over 30 countries. The international operations of CNPC began in 1993, signing a contract with the government of Peru to operate block seven in the Talara province basin.
Shortly later, in 1997, CNPC formed an oil contract with the government of Sudan. The international contracts of CNPC continued in various countries, such as Venezuela, Kazakhstan, Iran, Russia, Mozambique, Azerbaijan Republic, Thailand, Indonesia, so on.
Restructuring of CNPC occurred in 1998, when the Chinese government decided to separate and focus the operations in oil industry according to the divisions of upstream and downstream principles for the oil industry and its activities. Thus, most of the domestic assets of CNPC were conveyed into a separate company named PetroChina.
The domestic operations, projects and activities of CNPC in China mainland are numerous and entail many sectors of the Chinese economy from products of oil industry to construction, facilities, maintenance and stations for selling the fuel beside the roads and in urban and rural areas, widely covering all parts of China.
Technology and Innovation
CNPC heavily invests annually in the following divisions to boost its operations, enhance the operations and update its tasks and businesses:
Leadership in technology: recruiting and inviting new talented professional researchers and staff into the company.
Laboratories: investing to construct and expand the present laboratories and new ones.
Research and development progress: focusing on main aims and tasks of research and development as required in the economy domestically and globally.
Communication and cooperation: partnerships and working with various companies and governments in the world.
CNPC holds proven reserves of 3.7 billion barrels (590,000,000 m3) of oil equivalent. In 2007, CNPC produced 54 billion cubic metres of natural gas. The revenue of CNPC in 2019 was 2,516 million dollars. It has approximately 460700 employees domestically and globally. CNBC's parent corporation is The State-owned Assets Supervision and Administration Commission of the State Council (SASAC). The whole combined assets of companies of SASAC is CN¥194 trillion (US$30 trillion), with revenue of more than CN¥30 trillion (US$4.6 trillion), which makes SASAC the largest economic entity in the world. The production output of CNPC in 2019 was 168.44 million MT.
Service Stations
CNPC has a nationwide network of sales terminals. By the end of 2020, it had 22612 service stations in 31 provinces, municipalities, and autonomous regions as well as Hong Kong SAR in China, serving more than 10 million client-times a day on average. These stations provide gasoline, diesel, kerosene and lubricants in urban and rural areas, and along trunk roads and expressways. In 2020, among a total of 425 newly built service stations, 404 became operational.
Oil Products
CNPC's major refined products include gasoline, kerosene, diesel, lube oil, chemical light oil, fuel oil, solvent oil, paraffin, bitumen, petroleum coke and LPG.
Chemical Products
CNPC produces and sells different chemical products widely used in automobiles, buildings, electronics, pharmaceuticals, printing, household appliances, daily chemicals, insulating materials, packing, papermaking, textile, pigments, shoes, furniture manufacturing, etc. These products generally include thousands of specifications in six categories of synthetic resin (polythene, polypropylene, ABS and polystyrene), synthetic fibre and its raw materials (acrylon, terylene, PTA, glycol, acrylonitrile and polyester), synthetic rubber (butadiene styrene rubber, cis-polybutadiene rubber, butyronitrile rubber and ethylene propylene rubber), urea, organic materials (ETO, butanol, octanol, adipic acid, alkyl benzene, styrene, benzene, aniline and para-xylene) and inorganic materials (aquafortis, catalysts and additives).
Business Categories of CNPC
Onshore Pipeline
Offshore Facilities
Gas Utilization
Oil & Gas Storage
Operation & Maintenance
Telecommunications and Electricity
Oil & Gas Field Facility
LNG Processing and Receiving Terminals
Refineries
In the following section, we'll be exploring some of these business categories of CNPC to indicate the main tasks and the examples of these categories being conducted by CNPC.
LNG Processing and Receiving Terminals
CPP (China Petroleum Pipeline) is committed to all aspects and areas involving LNG project construction. The company has independent intellectual property rights of mixed refrigerant liquefaction process packages, with internationally advanced energy efficiency, masteringthe natural gas deep acid removal process and LNG cryogenic storage tanks construction. In the aspect of LNG receiving stations, CPP has fully mastered key technologies such as loading and unloading, storage, BOG recondensation, gasification, pre-cooling design and risk analysis, and dozens of core technologies such as LNG storage tanks seismic analysis, stress analysis, temperature simulation analysis, adjacent tank combustion analysis, and is capable of designing 160,000 and 200,000 cubic-meter storage tanks. These achievements have been verified by internationally renowned consulting firms and have reached international advanced levels among similar projects.